Advocates for Families of Law Enforcement Officers Slain in the Line of Duty.
Click here for information about the 2015 Calibre Press Street Survival Seminar, sponsored by the Philip Mahan Davis Foundation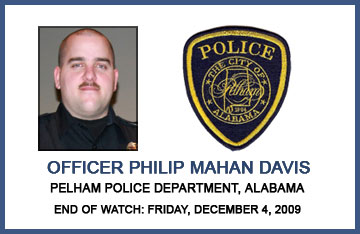 Philip M. Davis was shot and killed during a traffic stop on I-65 in Pelham. Philip was the first officer in the history of the Pelham Police Department to be killed in the line of duty. Philip left behind a wife and two small children. Philip's death is a tremendous loss to our community. It was evident that Philip's reason for choosing this profession was his profound love for and his commitment to this nation, the community and his fellow man. Philip had achieved a great deal of success in his short time on earth. Philip had earned both undergraduate and graduate level college degrees. Philip was a four and a half year veteran of the Pelham Police Department and had previously worked at the Calera Police Department and the University of Alabama Police Department. Philip also served as an adjunct instructor at ITT Technical Institute's School of Criminal Justice in Bessemer. Philip's life was a testament to compassion, ethics and hard work that continues to serve as an inspiration to us all. Philip's sacrifice to our community and this country will never be forgotten.